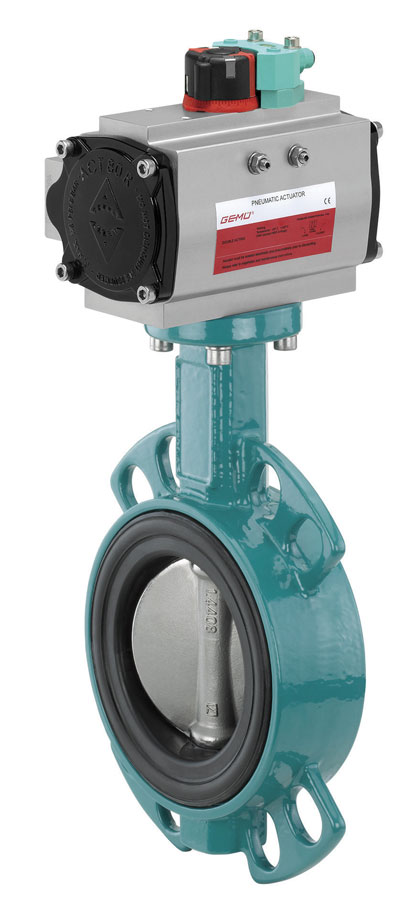 GEMÜ
480 Butterfly Valve
Pneumatically and manually operated GEMÜ butterfly valves are used in all treatment processes in waterworks processes to distribute raw and treated water. The EPDM liner of the GEMÜ 480 butterfly valve is particularly suited to drinking water applications and has DVGW approval. The GEMÜ 480 butterfly valve are available as standard in the lug design, as end-of-line valves which are often required in drinking water treatment plants throughout Europe.


CHECK-ALL VALVE MFG. CO.
Epic™ Check Valves
The Epic™ series consists of in-line spring-loaded poppet-type check valves that are designed to be cost effective, simple, rugged, and efficient while operating in any flow orientation. The Epic™ is machined from 300 series stainless steel bar stock with Aflas® seat/seals and a 1/2-PSI stainless steel spring (cracking pressure). The Epic™ closes quickly and smoothly for silent operation and eliminates water hammer. For more information, www.checkall.com/express_line.html.


NEPTUNE™ CHEMICAL PUMP COMPANY
Abaque™ Peristaltic Pumps
Featuring a new look of orange and black, these new Abaque models incorporate a stronger and more durable rotor design and an innovative hose holding system. Abaque pumps meet the challenging requirements of a wide variety of industries thanks to their seal-free design that eliminates leaks and product contamination. These self-priming pumps can run in forward or reverse and offer suction-lift capabilities to 25.5 feet (9 meters), as well as the ability to run dry without adversely affecting performance, pressure and accuracy (no slip). For more information, visit www.neptune1.com.


WILDEN®
Pure-Fuse Diaphragms
Pure-Fuse diaphragm technology incorporates a one-piece design that eliminates product-trap areas between the outer piston and diaphragm that can harbor bacteria, a critical consideration for hygienic applications. This patented design also provides an unbroken fluid-contact surface for exceptional clean-in-place (CIP) capability and reduced contamination risks. Pure-Fuse combines food-grade plastics and elastomers with a stainless-steel core using no adhesives or nylon fabric that can contaminate process fluids in the event of a breech. For more information, visit www.wildenpump.com.


BLACKMER®
S Series Screw Pumps
Blackmer S Series pumps are self-priming double-ended positive displacement pumps that offer outstanding performance in the most demanding applications. Blackmer's twin and triple screw designs provide complete axial balancing of the rotating screws and their timing technologies eliminate metal-to-metal contact with the pump. S Series pumps provide solutions that can meet the toughest application challenges regardless of temperature, viscosity or pressure. For more information, visit www.blackmer.com.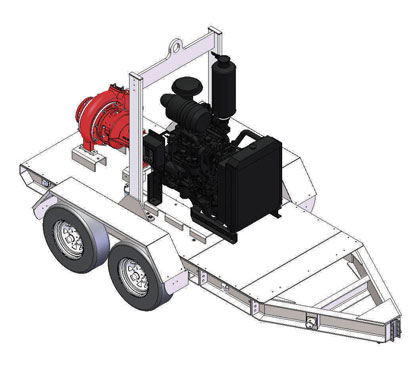 GLOBAL PUMP
Modular Skid
The Global Pump Modular Skid begins with a skid base that can be combined with bolt-on components to transform pump models from skid to trailer and/or open to enclosed by simply adding on extension pieces. In addition, the Global Pump Modular Skid provides end-users with the ability to construct three different Global Pump models on the same skid base using interchangeable pump end and/or engine combinations. For more information, visit www.globalpump.com.


QUATTROFLOW™
QuattroTec Pumps
The ideal applications for QuattroTec pumps are continuous dosing of high-value additives in the food and beverage and personal care industries as well as for in-line dilution. Because the pumps can provide a consistent flow that results in a constant and continuous dosing of ingredients, QuattroTec pumps are the ideal choice for critical applications in hygienic processes. These pumps feature a unique seal-less design, self-priming and dry run capabilities, compact footprint, high-suction lift, and are sanitize-in-place (SIP) capable. For more information, visit www.quattroflow.com.


XYLEM
Flygt 3000 Series Electric Submersible Pumps
The Flygt 3000 Series of small and mid-sized pumps covers an extensive performance range and are classified as low, medium, or high-head pumps. The 3000 Series are non-clog pumps, ideal for handling solids-bearing liquids in a variety of applications. The vast horsepower range enables the customer to meet the requirements of virtually any application. For municipalities that need to engage in lift station repairs or plant upgrades, the 3000 Series submersible pumps are a cost-effective and environmentally friendly rental alternative. For more information, visit www.xylem.com/dewatering/us/brands/flygt.


NEPTUNE™ CHEMICAL PUMP COMPANY
MP7000 Mechanically Actuated Diaphragm Metering Pump
Designed to be a low-flow version of the Neptune Series MP7100 metering pump, the Series MP7000 incorporates a wide variety of design features that provide reliable and accurate dosing of a wide range of mild to aggressive chemicals. Series MP7000 pumps are also available with a self-loading micrometer that prevents drift, and an optional automatic speed control with variable frequency or SCR drive. All models include a standard 63 IEC motor adaptor. For more information, visit www.neptune1.com.


ALL-TEST PRO
Motor Genie
The perfect tool for trouble shooting, start-up, and quality control of low voltage AC induction motors. The Motor Genie conveniently allows operators to know in a few minutes what the problem is connections or cable, electrical or mechanical, coil, internal fault or ground fault—as well as make sure electrical motors, connections, and cables are working in top condition. For more information, visit www.alltestpro.com.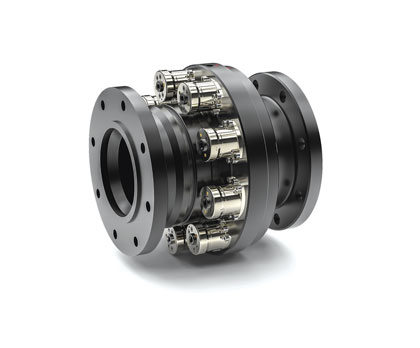 R+W
STF Flange Mounted Torque Limiter
This year, R+W launched a special heavy duty configuration for adaptation to flange mounted torque transducers, gearboxes, Cardan shafts, and more. Customers can individually adjust the safety elements to fine tune the disengagement torque level, or change the number of safety elements to make large adjustments to the disengagement torque range even after installation.  This model is available in the full disengagement function system, and comes with an optional "plate" for easier re-engagement. For more information, visit www.rw-america.com.


SCHNEIDER ELECTRIC
Altivar Process 660 Drive System
This Altivar Process 660 Drive System offers integrated safety and automation functions and is available with a full range of options from 1 to 125 horsepower. The Altivar Process 660 Drive System combines the reliability, flexible, and ease of use that the Altivar drives family is known for, with proven, validated, and tested drive system designs, making it the perfect solution for such markets as water/wastewater, oil and gas, and irrigation. For more information, visit www.altivardrives.com.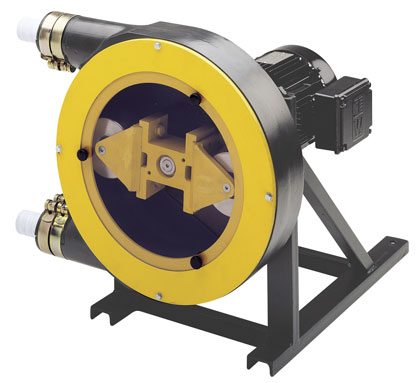 WANNER ENGINEERING
Vector Model 2006 Peristaltic Pump
The self-priming Vector 2006 compresses and relaxes a hose to pump fluid. Unlike many other peristaltic pumps, it features a roller mechanism instead of a rigid shoe to push the fluid through the hose. This isolates the fluid being pumped within the hose so it can handle difficult fluids without contamination and to help ensure longer service life with less downtime and maintenance. For more information, call 612.332.5681, email sales@wannereng.com, or visit www.hydra-cell.com.


RELIABILITY CENTER, INC.
PROACTOnDemand® v2
Now analysts can manage RCA on the go using any mobile device. Compatible with MAC and PC OS, tablets, and smartphones. Upload your photos, recorded interviews, field notations, and documents directly up to your PROACTOnDemand® dashboard. Keep team members up to date throughout the investigation. RCI supports you every step of the way during your RCA investigation with Interactive FAQ's, videos, tutorials, live remote assistance, chat, online, and classroom training. For more information, visit www.reliability.com/v2.


PSC COUPLINGS
Series 57 Disc Coupling
This innovative design features enhanced AGMA Class 9 rating as standard with no balance required up to 3600 rpm; Class 10 and Class 11 ratings are optional. All couplings have fully interchangeable parts without the need for match marked components. The couplings are fully manufactured in the United States and use 4140 alloy steel components, 301 XH stainless steel discs, and PSC's patent pending self-piloting disc cartridges. For more information, visit www.psccouplings.com.


KTR
Rotex® S-H with Split-Hubs
Utilizing technology from the automotive industry, KTR engineers applied the cast iron fracturing technique to axially split a coupling hub. Each coupling hub half is identified with marriage marks to provide perfect match sets, held together with cap screws. The benefit of Rotex® S-H is that its hub can be assembled and disassembled radially without having to disassemble the power packs, especially when mounting in narrow spaces and heavy drive trains. For more information, visit www.ktr.com/us.


SKF
Basic Condition Monitoring Kit
The SKF Basic Condition Monitoring Kit (CMAK 400-ML) equips manufacturing plants with an essential collection of measurement tools designed to assess the health of rotating machinery across industries.  The tools in this compact kit enable multi-parameter machine assessment by monitoring overall machine condition and specifically testing bearings, pumps, electric motors, and compressors—all to advance an operation's maintenance and reliability objectives. For more information, call 800.440.4SKF or visit www.skfusa.com.


ASHCROFT INC.
Type 1198 Finned Siphon
Capable of containing pressure up to 3000 psi, the type 1198 finned siphon can also support media temperatures up to 700 degrees Fahrenheit (371 degrees Celsius). 316L stainless steel construction ensures compatibility with a wide variety of media while a built-in dampening mechanism controls the effects of pulsation. For more information, call 203.385.0635 or visit www.ashcroft.com.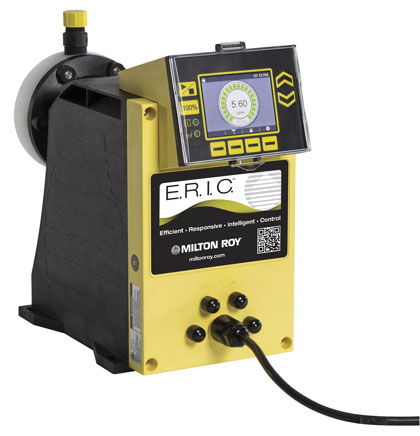 MILTON ROY
E.R.I.C.: The Intelligent Metering Pump
The E.R.I.C.™ metering pump series is designed to bring a higher level of Efficiency, Responsiveness, Intelligence, and Control to the water treatment and chemical processing industries. Available in two control configurations—manual and enhanced—the E.R.I.C. metering pump series fits seamlessly into the process control requirements of any water, wastewater, or general process application. The manual model includes a wide range of standard features, while the enhanced model provides a broader range of capabilities. For more information, visit www.miltonroy.com or www.ericpumps.com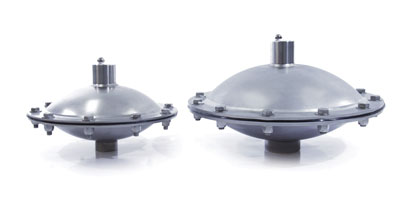 BLACOH Fluid Control
AODDampener
Blacoh's AODDampener constructed of 316L stainless steel with a PTFE diaphragm, employs an automatic air control that utilizes the existing compressed air source in an AODD pump system for charging. With this single configuration Blacoh's new AODDampener is compatible with over 80 percent of the existing AODD pump applications in the United States. Due to the pump's rugged, simple design and its ability to handle a variety of fluids, including slurries and caustics, it is a perfect choice for water treatment. For more information, visit www.blacoh.com/aoddampener.
____________________________________________
MODERN PUMPING TODAY, December 2016
Did you enjoy this article?
Subscribe to the FREE Digital Edition of Modern Pumping Today Magazine!