The International Water Conference® (IWC) is a strong educational conference, founded by the Engineers' Society of Western Pennsylvania with an emphasis on commercial free discussions on technology. The IWC presents the latest in scientific advances and practical applications in this field, cutting across a wide range of industries, technologies, and functional areas. As the preeminent international technical forum in the field, the IWC brings together end users, researchers, practicing engineers, managers, educators, suppliers, and contractors.
The IWC is dedicated to advancing new developments in the treatment, use and reuse of water for industrial and other engineering purposes. Attendees come to learn unbiased details about the latest applications available in the industry, get educated on current technology, and hold wide ranging discussions with their peers active in water treatment.
TECHNICAL PROGRAM
The IWC has always been a strong educational conference. The IWC strives to present timely, relevant, non-commercial scientific information to help further educate an already-educated audience.
Attendees come to learn about the latest applications available in the industrial water treatment industry, educate themselves in current technology and applications through attendance in IWC workshops, and network heavily with their peers active in water treatment.
All papers presented at the IWC are carefully peer reviewed for quality and to ensure no commercial aspect is evident. Each Paper presentation at the IWC is followed by a Prepared Discussion–a thoroughly considered, different perspective on the topic, followed by an open floor discussion when all audience members and presenters can fully interact–ask questions, seek clarification, and raise alternative viewpoints.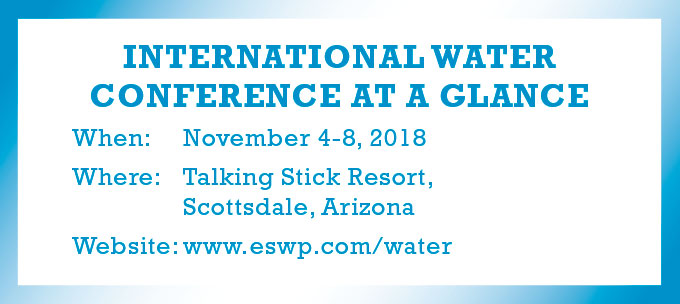 WATER MANAGEMENT IN POWER PLANTS
There are many applications of water management in power plants. Process and regulatory changes are major drivers leading to the reconsideration of existing approaches and evaluation of new techniques. The papers in this session present examples where power plants, impacted by changes in disposal of coal combustion residuals, are addressing management of bottom ash water, outage wash water, and treatment of water from impoundments.
The first presentation, "Arsenic Treatability and Pilot Testing at Little Blue Run CCR Impoundment," details of the systematic treatment procedure from initial desktop investigations, comparisons through technology screening by bench treatability testing, and confirmation by on-site pilot testing. Bench testing identified oxidation/coagulation/agglomeration/solids separation as a robust, flexible approach to arsenic removal on this site-specific water matrix. After initial bench scale tests, the oxidant selected was sodium hypochlorite; the coagulant was ferric chloride; the agglomerating chemical additive (agglomerant) was an anionic polyelectrolyte; and solids separation was by gravity separation. Subsequent studies have shown that the cessation of CCR disposal and capping of the facility will reduce the concentrations of arsenic in groundwater to less than the groundwater abatement standard. As such, full-scale implementation of the oxidation/coagulation/agglomeration/solids separation technology is not currently warranted.
As second presentation focuses on closing the loop in bottom ash systems. With the movement around the Coal Combustion Residuals rule (CCR) and the Steam Electric Power Effluent Guidelines (ELG) many power plants are installing closed loop bottom ash systems. As true closed-loop bottom ash systems had not been extensively installed and operated prior to the advent of these rules, the industry has encountered many challenges related to water management. The large ash ponds previously used for ash management provided more extensive water treatment than was previously recognized. Long hydraulic detention times (sometimes on the order of months) not only allowed particles to settle, but also allowed water quality to stabilize and equilibrate, and provided opportunities for biological treatment. As coal fired power plants close the loop in their bottom ash systems, the industry is being faced with new challenges within these systems including pH control, dissolved solids, corrosion, and scaling.
A third presentation, "Outage Wash Wastewater Treatment Alternatives at Coal Fired Power Plants," offers case studies of several coal fired power plants and explore the non-chemical cleaning outage wash wastewater treatment alternatives that were considered at these sites. The discussion will include an investigation of permanent treatment options, rental equipment treatment options, and options to repurpose existing water treatment equipment. It will focus on identifying a solution that is cost effective, provides adequate treatment to ensure continuous compliance, provides operational flexibility to handle both planned and forced outages, is suitable for a constrained project site, and is achievable in a compressed project schedule.
_______________________________________________________
MODERN PUMPING TODAY, October 2018
Did you enjoy this article?
Subscribe to the FREE Digital Edition of Modern Pumping Today Magazine!