Alandia pump and mixer set-up is continuing its successful operation at one of the UK's leading dairy farms, despite handling sand-laden slurry in the reception pit.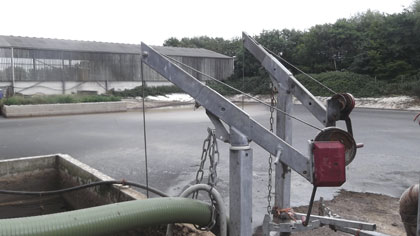 MEETING HIGH STANDARDS
Redlands Farm, located in Hook Norton, Oxfordshire, has been run by the Gasson family for nearly 100 years and routinely competes for prestigious agricultural recognition, such as the annual Royal Association of British Dairy Farmers' Gold Cup award. Having high standards is what helped the Gasson family make Redlands Farm a sustainable and profitable venture at a time when many other UK dairy farms were put out of business or changed their focus with depressed milk prices.
The Gassons, however, continue to invest in their dairy operation and are seeing the results. The farm now has a herd of 400 Holstein cows, having built up the herd from 220 cows in the late 1990s. A new building to house 200 cows is planned within the next two years, replacing older buildings.
Another such investment came by way of Landia supplier Midland Slurry Systems.


A TRUSTED PARTNER
Formed over two decades ago, Midland Slurry Systems Limited has grown into one of the most respected companies in its field in the United Kingdom. As they specialize in the supply and maintenance of industrial and agricultural wastewater treatment installations and animal slurry management, they had the expertise to assist Redland Farm in its search for a solution, which led them to Landia.
Provided by Midland Slurry Systems, a 5.5 kW Landia mixer (installed in 2003) ensures that slurry from 380 cows does not settle at Redlands farm, while a 7.5 kW submersible Landia chopper pump sends the slurry up to the separator. Both pump and mixer, which are made from hardened cast iron, are in operation seven days per week, for four hours per day.
Chris Gasson, co-owner of Redlands Farm, adds, "Although the sand (we use over 30 tons per week) can be very harmful to machinery, the Landia equipment has proved extremely durable. We could not work with pumps and mixers that block up and cause problems, so with reliable kit, we can get on with our milk production and attend to the well-being of our herd."
He adds, "We've also had very good back up from Midland Slurry Systems, who understand our needs and have a very conscientious approach to the smooth running of our farm."


PLANNING FOR THE FUTURE
With successful cases like Redlands Farm, Landia's experts are now expanding into North America to provide similar improvements in the large agricultural areas of Canada and the United States. ◆
For More Information:
Soren Rasmussen is the director of Landia, Inc. For more information about Landia's range of applications, call 919.466.0603, email info@landiainc.com, or visit www.landiainc.com.
____________________________________________
MODERN PUMPING TODAY, August 2016
Did you enjoy this article?
Subscribe to the FREE Digital Edition of Modern Pumping Today Magazine!