From design to installation, from inspection to maintenance, the training and education needed to make submersible pumps run effectively and efficiently continues to grow. In this month's SWPA Insight, we run down some of the challenges facing today's technicians as well as some of the exciting opportunities available for expanding a pump user's skillset. Lisa Riles, current SWPA vice-president and incoming SWPA president, is a global business director for Xylem's Applied Water Systems. She joins current SWPA President Steve Doolittle and SWPA Executive Director Adam Stolberg to discuss the changing factors of the submersible pump field and the vital importance for top technicians to stay ahead of the learning curve.
As the demands placed on submersible pumps change over time, how important is the role of professional organizations like SWPA to keep professionals up to date?
SWPA provides a credible source for professions to rely on for up to date training. SWPA's members are industry leading manufacturers and experts in the field who keep abreast of changes in technology, standards, and so on.
What role can SWPA play in leading the way of continuing education and training?
As busier than ever professionals' needs for training evolve, SWPA is leading the way with more online on demand training programs. This provides professionals the option to participate in convenient online training or more comprehensive face to face training, depending on their schedules and needs.
What training areas would you recommend today's professionals focus on in the submersible wastewater pump field?
Understanding the "systems approach" to designing a system is the place to start to get the big picture. This systems approach also applies to operation and maintenance. New professionals should be trained on the basics of what a submersible pump is and how critical it is to understand concepts like cavitation. With the growing concern to save energy costs and increasing system efficiency, professionals should be trained to understand how VFDs play a critical role in a solution.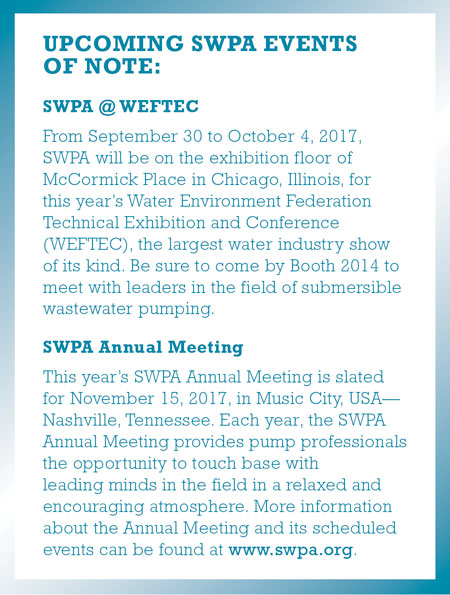 What added benefits can professionals take away from in-person training sessions—like the ones found at SWPA seminars and the Turbomachinery and Pump Symposia?
Face-to-face training is always a great opportunity to be able to have the interaction with other professionals in the industry to discuss real life problems and solutions. With a wide array of trainers with years of experience, professions can have one-on-one dialog with experts in the wastewater pumping world. It is a perfect opportunity for new professionals in the industry to get intensive training on a spectrum of topics.
How would you advise today's pump professionals to get the most out of their Continuing Education Unit (CEU) credits?
Annual conferences sponsored by state chapters of the Water Environment Association and other similar organizations are good places to get CEU credits at a location that does not require a lot of travel cost and time. For those attending national exhibitions, there are always seminars taking place that grant CEU credits. Organizations such as SWPA have seminars and webinars where CEU credits are granted. Some manufactures have training facilities where CEU's are available. It is advised to confirm that the CEU credits made available will be approved by the proper Authority's in advance.
How has online training boosted the preparedness of today's pump professionals? What tips can you provide for maximizing one's benefit from an online CEU course, like SWPA's webinars?
In 2016, SWPA developed an online Training Resource Center that allows today's busy professionals to keep up with required CEUs by viewing thirty- to sixty-minute webinars anywhere, anytime—free to SWPA Members and for a nominal fee to non-members. The TRC is adding content quarterly.
In addition, an "Ask the Expert" section allows industry professionals to ask SWPA's experts a question, whether it be hypothetical or an in-the-field, real time issue—and receive a response within twenty-four to forty-eight hours. The TRC also has links to current industry articles and a glossary of wastewater terms. The TRC can be found by going to SWPA's website at www.swpa.org. ◆
____________________________________________
MODERN PUMPING TODAY, August 2017
Did you enjoy this article?
Subscribe to the FREE Digital Edition of Modern Pumping Today Magazine!