Raging heat waves, crippling ice storms, devastating drought—extreme weather has continued to accelerate in the past decade, claiming lives and causing untold devastation. Just halfway through 2023 alone, the United States experienced seven confirmed weather-related disasters with losses that exceeded $1 billion. 
With the increasing number of weather disasters, homes and businesses rely on uninterrupted electricity and natural gas more than ever to accommodate their daily needs and take the brunt of emergency situations as they occur. Utility companies need backup or standby power sources to meet needs during peak demand, electricity gaps, off-grid power needs, and outages.
During these critical times, temporary power solutions provide robust services and benefits to the most vulnerable. This series will delve into the crucial advantages of mobile power solutions and their evolving pivotal role in the ever-growing energy requirements of the utility sector. Read on to explore utilities' key challenges and learn the advantages of partnering with a temporary power provider.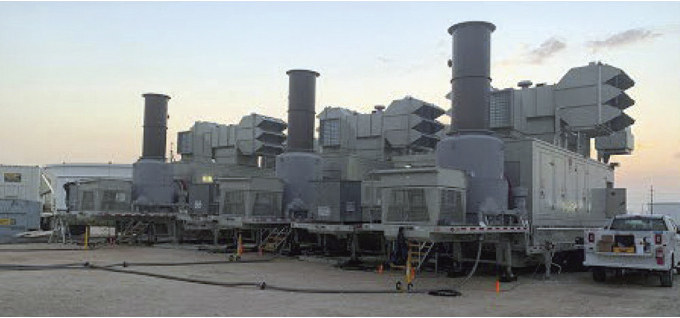 CHALLENGES FACED BY UTILITY COMPANIES
Utility's chief role in distributing power to businesses and homes is ensuring reliable and continuous supply to meet electricity demands. To meet these demands, utility companies must manage the essential infrastructure and systems to generate, transmit, and distribute power efficiently. However, these responsibilities come with significant challenges.
Peaking Demand
Energy demands vary throughout the day, season, and year. Peak times, such as during severe heat waves or ice storms, require high demand, while other times, such as in the middle of the night during relatively normal weather, the demand is low. Balancing these surges in demand requires a sophisticated, real-time understanding of usage patterns. During peak demand periods, utility companies need to be able to meet surging needs.
To meet this demand, utilities must have "peaker" plants that they can bring online quickly for peak demand. Building and maintaining peaker plants can be economically inefficient because they are used infrequently.
Grid Stability
Maintaining electrical grid stability is another significant challenge. Electrical power needs to be generated and used in real-time. The delicate balance between supply and demand must be maintained to prevent power outages. This balance can be especially challenging with renewable energy sources, like wind and solar, which can be intermittent and variable.
Upgrading Infrastructure
Much of the existing electrical grid infrastructure in many parts of the world is aging and needs upgrades or replacement, including power plants, transmission lines, substations, and transformers. However, upgrading this infrastructure can be costly and complex.
Modernizing the grid means more than just replacing old equipment. Utilities must integrate new technologies, like smart meters, distributed generation systems (like rooftop solar panels), and advanced communication systems. These upgrades improve grid reliability and resilience but require significant planning and investment.
These challenges mean utility companies must think strategically about their investments and operations. They must also collaborate with technology providers, customers, and other stakeholders to develop and implement effective solutions.
THE BENEFITS OF TEMPORARY POWER SOLUTIONS
With the numerous challenges utilities face, they often need to rely on third parties to help during severe weather and times of crisis. Temporary power solutions provide cost-effective, customized solutions to keep the power supply running for your customers. Plus, temporary power equipment supports a wide range of megawatts (MW) to generate as much or as little power as needed.
The right temporary power solutions company can provide valuable benefits to overcome the challenges of severe weather:
Quick Mobilization
Temporary power companies excel in their fast response to emergency situations, like power outages or equipment failures. Securing a trusted partner ensures rapid backup power deployment to minimize downtime and restore power quickly. This all helps mitigate the impact on business operations and end-users.
Uninterrupted, Continuous Power Supply
Temporary power bridges critical power gaps. It ensures businesses and homes have continuous supply and meets their expectations.
Fuel Efficient, Low Emissions
Many temporary power solutions providers offer natural gas units equipped with advanced technologies, such as clean-burning engines, to minimize the carbon footprint and reduce environmental impact.
Flexibility
Temporary power solutions companies customize their solutions to meet each utility company's specific requirements on a global scale. With various generator sizes, power capacities, and fuel options, these solutions scale and adapt to changing demand without significantly impacting infrastructure.
24/7 Availability and Support
These companies offer around-the-clock support with expert teams ready to address any technical issues, monitor power systems, and deploy technicians for maintenance as needed in real-time.
While the advantages of a temporary power supply company are significant, it's important to emphasize that they're only achievable through an experienced and qualified power solutions provider. Selecting a reputable provider is crucial to get the right service for your business.
A LOOK AHEAD: PREPARING FOR SEVERE WEATHER AND SUMMER PEAKING
It's no longer possible to put off planning for severe weather: it's only continuing to grow globally. With El Niño's return 2023, we have already seen new temperature records. Communities and utility companies need to prepare now to be ready for whatever comes.
Severe weather and summer peaking pose several threats to the utility market. For example, increased electricity usage for cooling purposes driving surges in demand, damage to utility infrastructure from hurricanes or tornadoes, brownouts or blackouts, and reputational risks if there is a sluggish response and power restoration can all spell trouble for utility companies. However, temporary power solution providers help to mitigate these risks.
In next month's conclusion to this series, we'll present the goals you should look for in choosing the right partner as well as some examples where utilities met these challenges head on. 
---
FOR MORE INFORMATION
Distributed Power Solutions (DPS) provides power generation rental solutions to meet the growing global demand for energy related products and services. DPS's turnkey rental solutions ensure you are prepared for your planned or emergency utility needs, 24/7/365. DPS is dedicated to the power generation business and has one of the largest equipment rental fleets of turbine and reciprocating engine generators available to meet demand. Our unmatched product support services include design, engineering, installation, and operation to help solve utility needs. DPS brings the expertise and focus of a specialty rental business to our customers to solve their temporary power generation needs. For more information, visit www.dpsenergy.com.
---
MODERN PUMPING TODAY, September 2023
Did you enjoy this article?
Subscribe to the FREE Digital Edition of Modern Pumping Today Magazine!